Loop Festival 2009 came back to Brighton over the weekend of 11th and 12th July, but unfortunately not in Victoria Gardens as last minute changes were made to the festivals venue due to a typically "British summer" weather forecast.
Well, the weatherman was right and Saturday definitely benefited from using indoor venues. The Pavilion Theatre, Dome and Corn Exchange were all used as stages, and with the venues being so close to one another the "festival vibe" was kept alive.
After checking out all the venues and half watching Casio Kids and The XX at the Dome, I headed for the bar area, which provided the less hardcore with a relaxed base for chilling out on comfortable looking cushions. There was also a face-painting stall?
I really enjoyed spending Saturday afternoon in the Pavilion Theatre as this stage was home to the more experimental and visual based performances. My personal highlight was watching The Paper Cinema, a performance by two people moving multiple black & white illustrations in front of a camera, telling a visual story. This was presented on a large projector screen with two musicians playing a live soundtrack to the story. As Loop crept into the evening I got to see Thomas Truax; a unique, theatrical and truly bizarre character who makes and performs on his own other worldly instruments with a "Lynchian" sound and manner.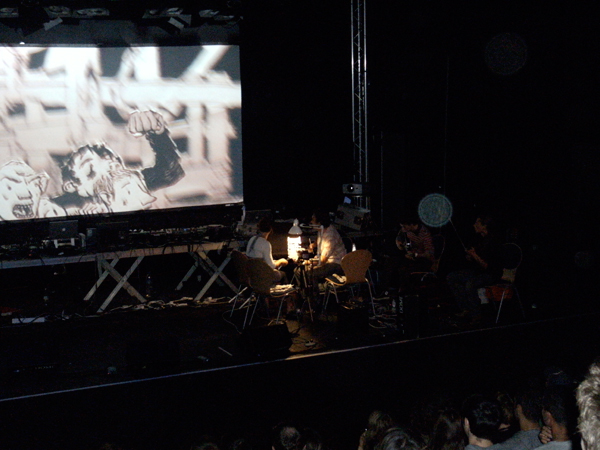 Paper Cinema
Later that Saturday it was a real shame that the three acts I was most looking forward to seeing were all playing at different venues at the same time. Fever Ray (woman from The Knife) was playing at the Corn Exchange and Mira Calix & Quayola (interesting arty sound stuff) were playing at the Pavilion Theatre. However, in the end I decided to watch Squarepusher at the Dome. Some of the set was really good with great musicianship and electronic beats, but then everything became cringe worthy when the pusher of squares started pushing harsh, dodgy metal and most of the crowd seemed to scarper. I took this opportunity to pop next door to the Corn Exchange for fifteen minutes to check out Fever Ray, which had a really shamanic, tribal atmosphere going on. Adding to this there were really cool lasers with clouds being projected above the crowd.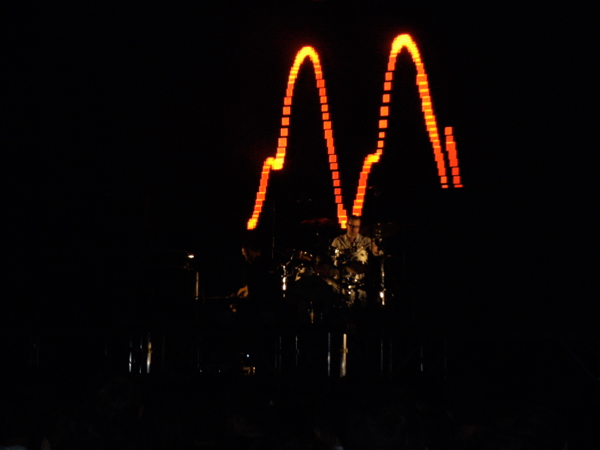 Squarepusher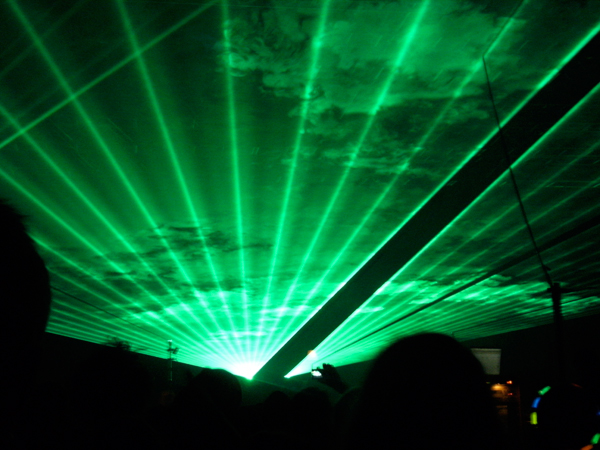 Fever Ray
Then on to Loop Late, which continued until the early hours of the morning. I opted for the Concorde 2 where I enjoyed ending my Loop festival by watching Radio 1 dubstep queen DJ Mary Anne Hobbs followed by Zomby. Unfortunately it seemed like an eternity of listening to some really amateur youth DJ's while we were waiting for their sets to begin.
All in all, an interesting and diverse take on a standard music festival.
Words by Murley Bassey 'n' Flaaars
Photos by Murley Bassey 'n' Flaaars